Marketplace: Lead Generation
Get free listings and leads every month!
Motohunt/ATVHunt is a free-to-participate marketplace for used and new motorcycles, ATVs and UTVs. It was created in 2019 by an ex-Google team which is passionate about riding, and aspires to offer a next-generation online destination for powersport buyers and sellers.
We offer to our users an advanced search experience that helps them identify models that are of interest to them, and we forward visitors and leads to our sellers.
Free Listings
Unlike other listing sites, listing your inventory on Motohunt and ATVHunt is free. You will get exposure to our hundreds of thousands of monthly users, and we will forward you any visitors for free. We believe this adds value to everybody: your business, our users and our site.
Per-lead billing
At Motohunt, we only make money if you do. That's why the first five leads we send you every month are free. We will only bill you if we are successful at sending you enough customers. And you can cap your leads to any amount you wish, so your monthly bill is predictable. See our pricing section for how this works.
Premium: Pricing Intelligence
Increase your margins, save time, and eliminate mistakes
Make more money from your inventory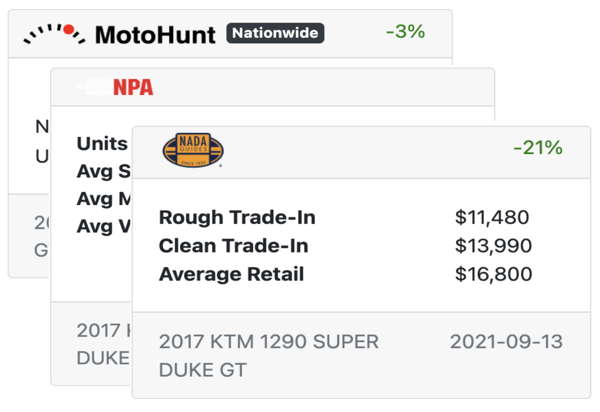 Save a ton of time by viewing industry leading NADA, NPA, and our own on-the-ground real-time pricing info in one screen. Make more money out of each unit by pricing them appropriately for their local market. We cover all major motorcycle and powersports brands, and all kinds of vehicles: Motorcycles, ATVs, SxSs, PWC, Boats.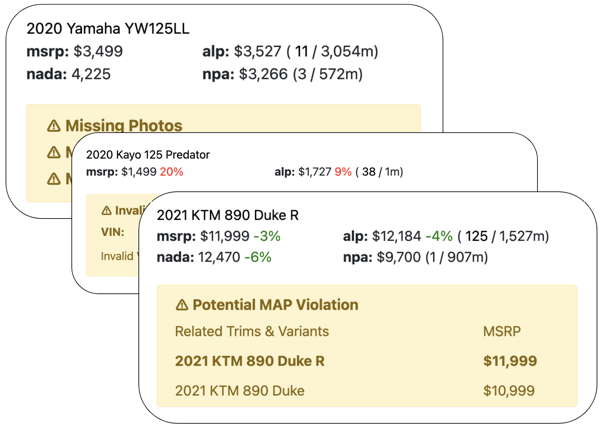 Stay out of trouble by getting immediate warnings for potential MAP violations, and fix VIN-related issues that drive away close-to-purchase customers. Make sure you have prices, photos and mileages posted for your inventory to entice buyers to contact you more.

Getting the model of a used unit wrong could cause thousands of dollars in losses, or customer complaints! Our automated systems look at both the VIN and title of every unit, and our staff will manually review the most difficult cases to help you out!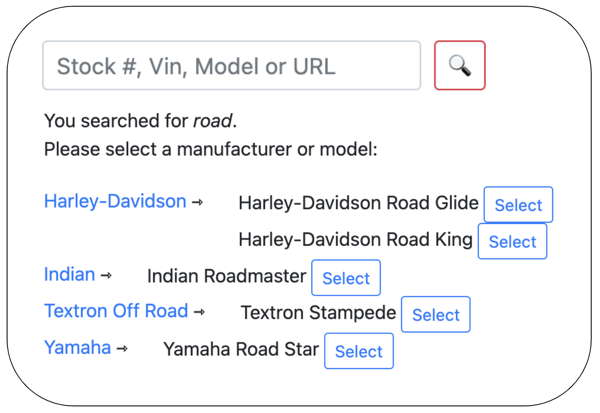 Use our powerful VIN decoder, or lookup a vehicle by model name, and see NADA, NPA and local prices. Print customer quotes with all the right prices to entice your customers to come back. Add payment options to give them the complete picture.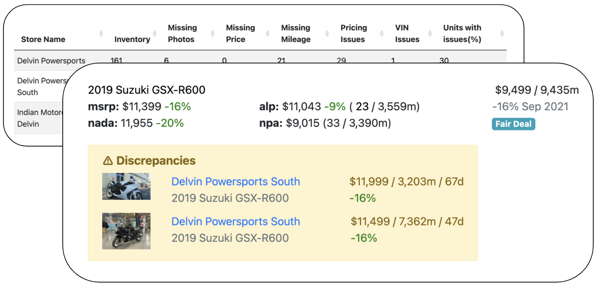 We make it easy to see the vehicle break-down and related inventory issues across all your stores so you can keep on top of everything. And we highlight pricing discrepancies amongst your stores, so you don't undercut yourself!
Facebook feeds and data exports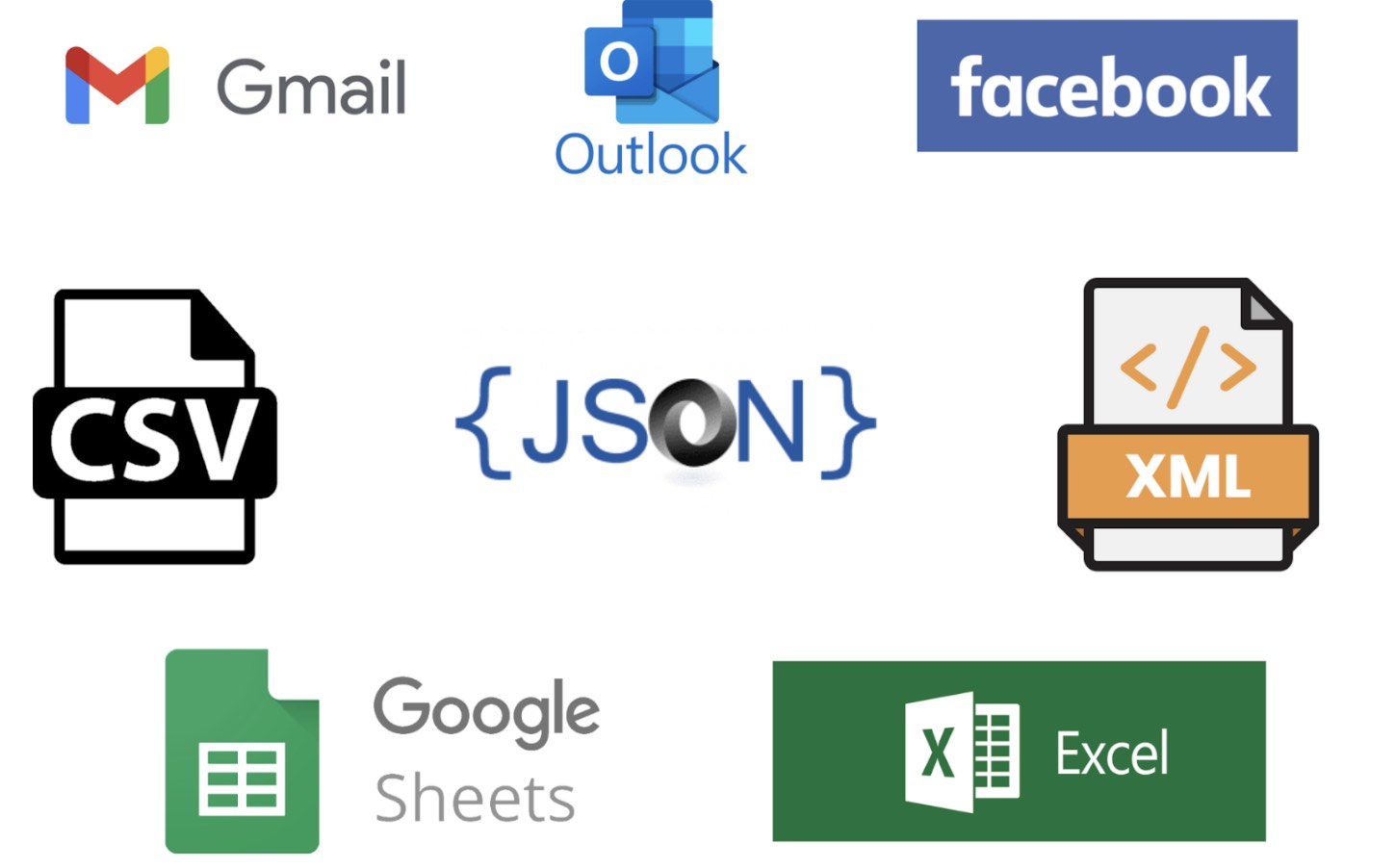 Advertise your inventory on Facebook using our purpose-made feeds. Export/download our pricing data alongside your inventory to CSV/Excel/Google Sheets. We give you unlimited feeds at your desired formats at no additional cost.
Pricing
Our pricing is per month, without any commitments, and you can cancel at any time without prior notice via email.
Marketplace
Per-lead pricing
Premium
Starting at $299 / month
Unlimited leads
All Pricing & Inventory tools
Unlimited appraisals
Multi-store management
Facebook & Inventory feeds